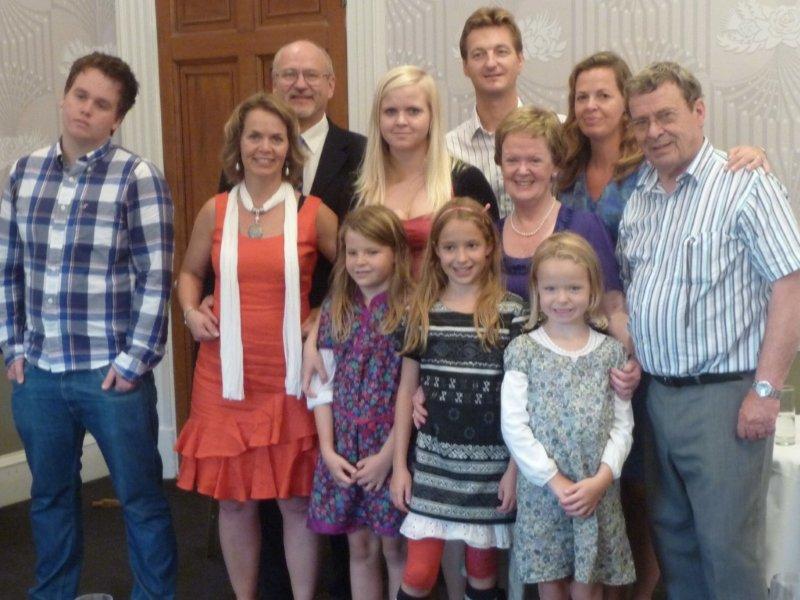 After attending the Collegiate Grammar School in Blackpool, I went to Art College for a year and then worked for five years in London and Blackpool. In 1963 I decided to go to Sweden to work for a year. I married there and lived in Brazil, Canada and the USA, travelling with my husband and his job.

However, it was not until 2002 that I returned to live in England, when my Swedish husband and I decided to retire to Lytham, that I could really devote myself to painting full time. I have always painted although lapsed for a while when my daughters were young.

Left: Sandra and family at a reunion in Wimbledon 2011
Some milestones in my art development:
Art School at Blackpool Technical College 1958
Lisette Levy's Brazilian Art Study Group, São Paulo, 1980/83
Art History at McGill University, Montréal 1986/7
Watercolour Painting Camp at Öland, Sweden, summer 2000
Painting courses at Higham Hall 2004, 2006, 2007, 2009 and 2015
Abstract Art & Mixed Media course Lancaster University 2008
Exhibition at the Lytham Heritage Centre May/June 2008
Exhibition at the Garstang Art Centre Sept/Oct 2008
Exhibition at the Lytham Heritage Centre Aug/Sept 2011 together with Harvey Foster & Alan Bealey

Exhibition at the Lytham Heritage Centre Oct/Nov 2013 together with Hugh Ellwood & Ken Roberts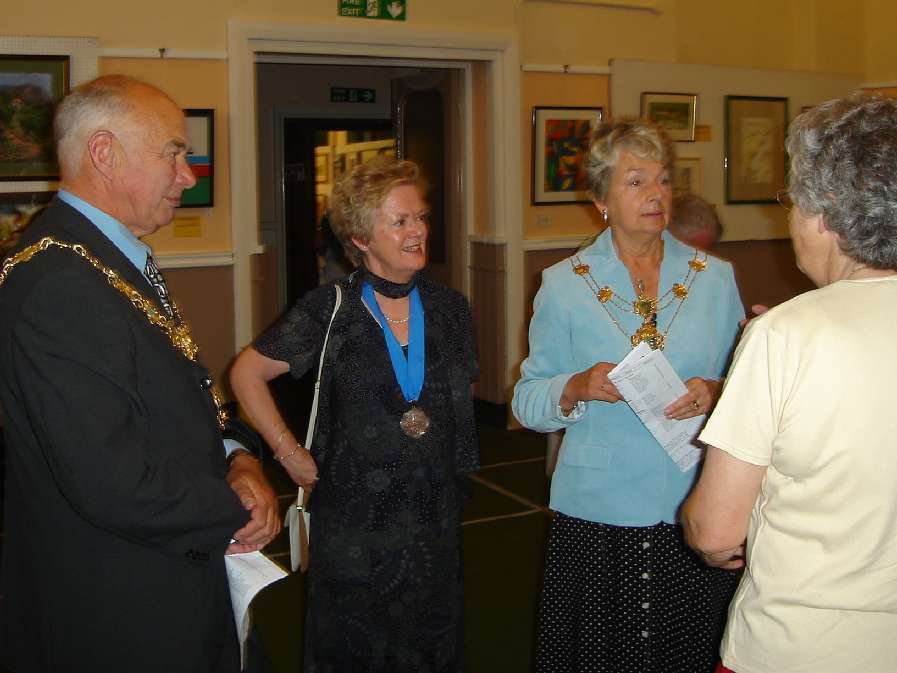 Right: Sandra as President of the Lytham St. Annes Art Society inaugurating the Summer Exhibition 2006 with the Mayor and Mayoress of Fylde, Mr and Mrs Harold Butler.
I am a member of the Lytham St Annes Art Society where I run an experimental watercolour workshop and am active on the committee. I have exhibited in Lytham, Blackpool, Milnthorpe, Garstang and Cockerham.

I am a member of the Arts Society Fylde, and here is my entry. Also I belong the Friends of the Lytham St Annes Art Collection.
I enjoy working and experimenting in different media, where I try to find the essence of my subject and capture a mood or atmosphere as in "Out of the blue" and "Winter Moon". I also try and experiment with watercolour and see what it can do. I love it when unpredictable things happen - sometimes it works and sometimes it doesn't!

"Xanadu" was my interpretation of the first lines of Coleridge's poem. It is watercolour and ink sprayed onto the surface. I try to work more abstract and "Fragments" is an example of this. It is based on a sketch of the bark of a tree. I have also started to make collages and "Lithosphere" is an example. Using pieces of material: card, paper, stones, sand, all fastened with acrylic medium and painted with acrylic paints. "Autumn Leaves" is a watercolour painted mainly in a negative technique.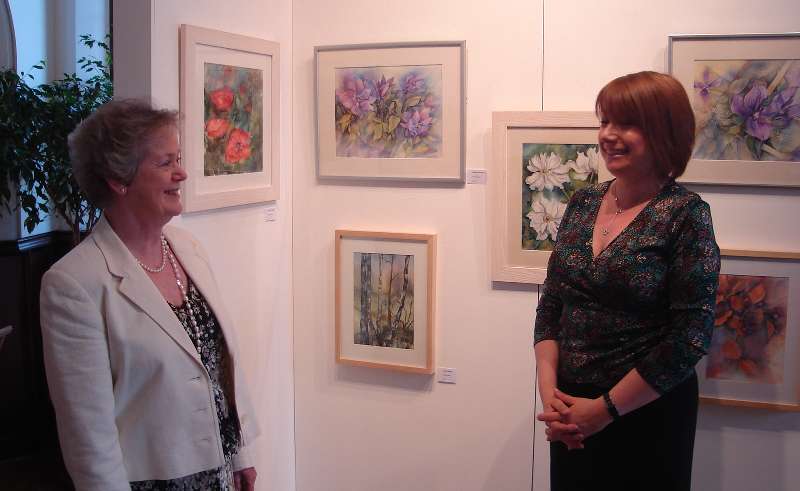 Above: Sandra and Danielle at the Lytham
Heritage Centre exhibition in July 2008
My Art Gallery includes a few flower paintings in watercolour and Life drawings which is something I enjoy doing as it demands concentration and skill. Most of these works have been painted during the last couple of years.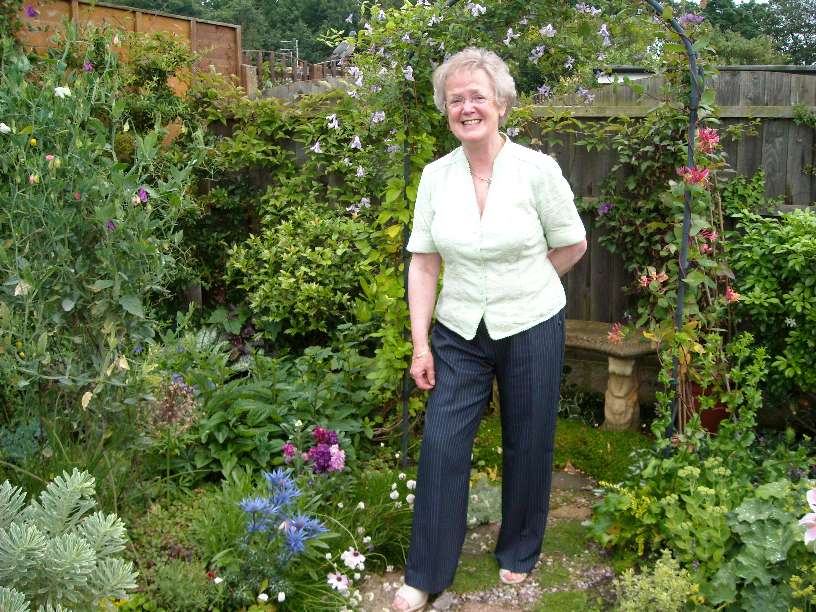 Favourites:
Bellini

Mozart

Ian McEwan
Redon

Mahler

Shakespeare
Gauguin
Beth
Carvalho
P.D. James
Helene Schjerfbeck

Rod Stewart

Margaret Atwood

I love music of all sorts and I read a lot. I'm also interested in antiques. Since we moved to Lytham I have had the opportunity to create a garden from scratch.
I love flowers, not just to paint them.